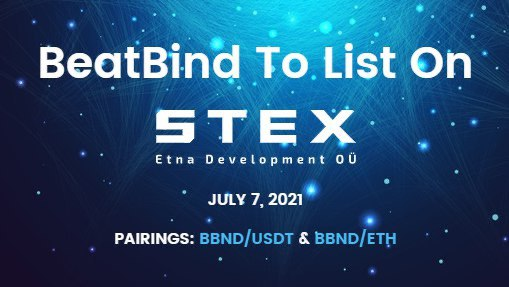 This article was created to familiarize customers with the principles and strategy of the unique BeatBind project.
TBILISI, Georgia, 8 July 2021, ZEXPRWIRE, BeatBind is providing token holders and existing partners with updated information and status of the project launch. 
BeatBind aims to become the long-awaited platform for music event organization, with BBND being the cryptocurrency token used for all transactions.
BeatBind is the world's first decentralized blockchain event organization and talent auction platform that will allow artists and venues to focus only on providing unforgettable experiences to their fanbase. BeatBind aims to connect three key players in music event coordination: venue owners, performers, and fans. The innovative solution will be supported with BBND, a universal cryptocurrency token for the music industry. 
BeatBind intends to solve music event related problems through the development of its Platform and wider event organization ecosystem. The key idea is to allow all participants in the ecosystem to efficiently connect and interact. BeatBind will capitalize on the high demand for the best artists, organizers, and venues and increase artist booking rates significantly using various auction models. BeatBind will give rising artists more opportunities both locally and globally. Furthermore, fans will be able to directly purchase tickets from organizers of all events created on BeatBind, preventing fraud, forgery, and ticket scalping. 
BeatBind will offer a new creative solution for concerts, festivals and exclusive parties. As the Platform scales, barriers of entry will be lowered significantly for all parties. And finally, BBND as the official utility token, will capture a significant part of the new value, which will be created for the first time in the world on BeatBind.
BeatBind has no limitations in terms of niche restrictions or seasonality. The business model can be expanded, and the technology easily adapted, to include numerous other sectors related to event organization. Currently there are five big event categories relevant for the early expansion of BeatBind. 
Cumulatively, the total current estimated valuation of BeatBind's addressable market exceeds $30B. BeatBind initially will target, address, and improve multiple categories of  the music event space, all through its innovative and disruptive platform and ecosystem.
 BeatBind is developing a multi-stage business model with each level being foundational and accretive to the following platform level, to tackle each of the industry's four prevailing issues with the creation of: BeatBidder, BeatBuy, BeatX, BeatAI.
BeatBidder – BeatBind's BeatBidder is a platform for connecting venues, DJs, artists, and all other parties involved in the music event organization process in order to provide a valued experience for all. Leveraging auction systems, BeatBind seeks to increase revenue for the most in-demand DJs and venues, while taking advantage of the sheer size of the market to cut costs and lower barriers to entry for virtually everyone who takes part in creating music events. 
BeatBuy – Ticketing will be a default feature of any event created on BeatBind through BeatBuy. Tickets will be sold directly to BeatBind's fan base, which will decrease barriers to entry. This prevents ticket scalping, forgery, and the rise of secondary markets that currently steal an estimated $8 billion annually from event creators. BeatBuy will eliminate these obstacles and bring the money back into the pockets of artists, organizers, and all businesses that are involved with creating the music event.
BeatX – BeatBind's BeatX app gives fans the advantage they need to shape the event they are attending, as well as event-oriented experiences such as social networking and in person engagements. Fans will have access to newsfeeds and will be engaged in multiple ways to help the organizers better shape the very event that those same fans are attending. In order to ensure the integrity of all transactions and to protect all parties, BeatBind will introduce a rigorous escrow protocol for refunding money in case of failed transactions and for handling any disputes between venues, artists, and event organizers. 
BeatAI – BeatBind's AI platform will use machine learning to produce revenue estimations to help venues justify decisions in any part of the music event organization process. It will provide revenue projections and other data that will help all users to decide who to hire and where to perform, as well as other matters that will greatly reduce risk and result in even more growth.
The main principle behind early Platform growth is rewarding new users and those who bring in new users. Successful cases of referral strategies include Facebook and PayPal, which started with small user bases, and relied on incentivizing satisfied customers to onboard their friends. 
The Platform will give an incentive in BBND for every user referred to the Platform, as well as a percentage of all proceeds that the referee generated for BeatBind. In the earliest phases post-launch, there will also be an unconditional bonus in BEAT for all users of the BeatBind Platform.
BeatBind will list on July 7, 2021 on www.STEX.com
Please read our legal section
BeatBind Social Media:
The post Consolidating the Fragmented Music Industry appeared first on Zex PR Wire.