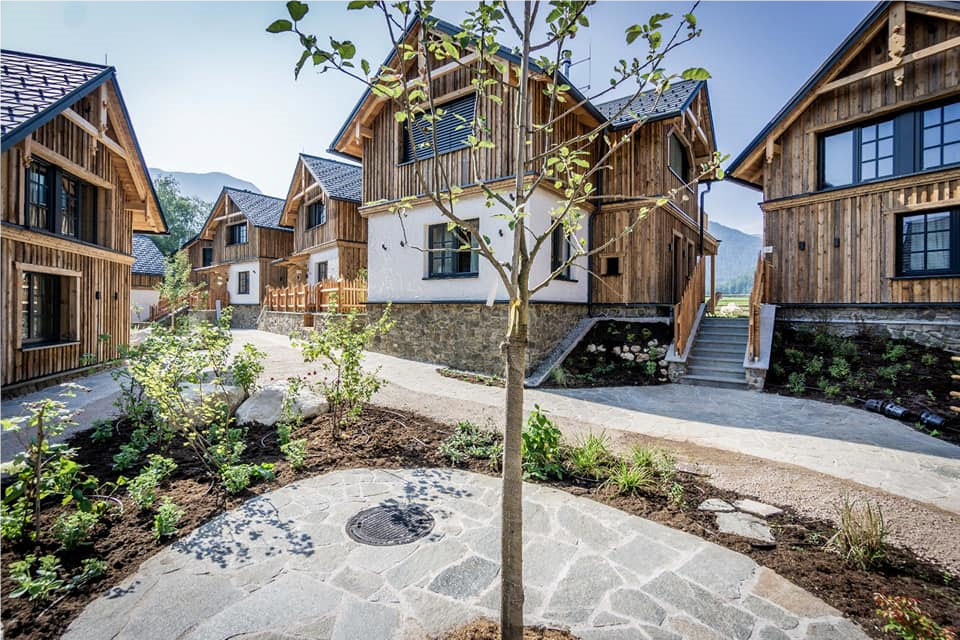 Madrid, Spain, 19 July 2021, ZEXPRWIRE, A total of one main building, 9 chalets, and a wellness chalet with an outdoor pool will be built. The traffic development takes place via a direct access road. The basis form flat foundations on frost-free and sustainable substrates, a base plate, or strip foundations in all buildings.
The construction is carried out in solid construction in reinforced concrete and brick masonry with roof structures made of wood and a roof covering made of gray fiber cement panels.
The facades are plastered white and partly provided with vertical wooden formwork in a natural look. The catering area will be barrier-free. Enclosures are carried out in crash-prone places with wire mesh fences. The heating is carried out via wood-pellet heating, whereby in the chalets additional stoves (piece wood) are integrated. The power supply is provided by "Energy Steiermark".
OUR MISSION:
ALPINRESORT PRAEBICHL, LLC ("ARP") mission statement is the following:
– The mission of APR is to become the number one lodge of choice with visitors to Styria/ Steiermark area.
– With the Alpinchalet Resort AM PRÄ, a modern chalet village in an upscale 4 superior category including a restaurant is to be built and operated in the immediate vicinity of the valley station of the Styrian ski area Praebichl In addition, the "Polster Schutzhaus" a shelter at the mountain station will be included in the overall concept and modernized in the course of the project.
Objectives:
The objectives of the APR for the first three years of operation include:
– Exceeding customer's expectations for luxury accommodations.
– Maintaining an 90% occupancy rate during the peak periods.
– Assembling an experienced and effective staff.
Management Team:
The US-Invest/Co. is owned by the following Members:
– 100% Member Units = ALPINRESORT PRAEBICHL GmbH, Austria.
Mr. Markus Schlager is acting as CEO & CFO in the company. This company is capitalized by one single stockholder. The CEO & CFO of this firm is Mr. Markus Schlager.
Financial Overview:
Sales Forecasts / EBITA:
ARP expects a strong rate of growth at the start of operations. Below are the expected financials for our next years:
Sales Forecast:
2022 – €136.985.00 / $1,341,642.00 US Dollar
2023 – €1.563.853.00 / $1,845,347.00 US Dollar
2024 – €1.931.393.00 / $2,279,044.00 US Dollar
2025 – €2.205.064.00 / $2,601,976.00 US Dollar
2026 – €2.454.611.00 / $2,896,441.00 US Dollar
EBITA:
2022 – €287,846.00 / $339,658.00 US Dollar
2023 – €529,517.00 / $624,830.00 US Dollar
2024 – €799,378.00 / $943,266.00 US Dollar
2025 – €1,014,730.00 / $1,197,381.00 US Dollar
2026 – €1,196,029.00 / $1,411,313.00 US Dollar
Total Projected Cost:  
Total estimated costs before getting cash positive in 2022 are expected to be approximately: US$10,000,000 US Dollar.

ALPINRESORT PRAEBICHL, LLC is committed to obtaining and providing the monies necessary to institute and complete this project in a timely manner.
  ALPINRESORT PRAEBICHL, LLC – Equity Crowdfunding Campaign:
https://www.equitynet.com/c/alpinresort-praebichl-llc
Launch Campaign at:
https://www.equitynet.com/c/alpinresort-praebichl-llc
Alpinresort Praebichl , LLC will launch their Equity Crowdfunding campaign in the End of  JULY 2021via the Equity Crowdfunding Platform: www.Equitynet.com
Media Contact:
Contact Name: Markus Schlager, CEO & CFO
Phone: +1-302-397 0565 or +43 – 664 4001392
Email Address: [email protected]
The post Alpinresort Praebichl, LLC announces the Launch of their Crowdfunding Campaign appeared first on Zex PR Wire.