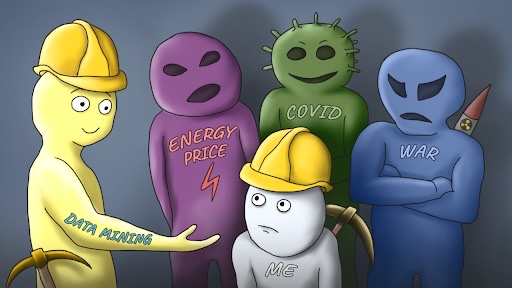 To answer the call of the market during COVID aftermath, energy crisis followed by mining restrictions and military conflicts, ExtraChain brought to the world an energy-efficient, friendly to environment and users, and not-so-complicated way of coin production – Data-Mining.
UAE, Dubai, 27th October 2022, ZEXPRWIRE, During the instability of energy supplies and continuously growing energy prices, it is obvious that the market needs something other than Proof-of-Work – wasteful, meaningless burning of energy and devices. 
While big corporations will withstand the pressure, true fans of decentralization and adepts of crypto will experience the devastating blow of government bans and economic restrictions firsthand. This can bring us to a very dangerous point: silently and inevitably, we will lose our freedom. Freedom that builds on decentralization of decision making. True digital democracy. Should we fight these restrictions? Maybe. Should we adapt and overcome? Absolutely.
Based on the idea of meaningful usage of data, rewards for data storage and flexibility of algorithms, Data-Mining is the development of other data-based consensuses, directed to lower energy consumption and a wide variety of different devices (smartphones, low-end PCs etc.). While other algorithms require high-end devices, impossible even to have in home for an ordinary user, ExtraChain offers the possibility of participation in global distributed data processing even for devices in your pocket – like smartphones, just be at the right time in right place – and your help for Data-Mining community can be invaluable, but valued by other members of course.
So now, during the current state of the market, the community of decentralization must adapt to complex situation and overcome restrictions while finding new ways of implementing the main idea – freedom in equality through decentralization
Media Contact
Contact Person: Yuriy Snigur
Company Name: https://extrachain.io/
Email: [email protected]
Linkedin: https://www.linkedin.com/company/extrachain-foundation/
Twitter: https://twitter.com/extrachain
PR Contact
Name: Harriet Karprinskaya
Email: [email protected]
Telegram: https://t.me/Karpinpr
The Post Energy prices pressure threatens mining existence – Data-Mining is a solution appeared first on ZEX PR WIRE