Los Angeles, CA, 1st November 2022, ZEXPRWIRE, As a major entertainment industry, the platforms have been in the news lately for bringing new-age marketing.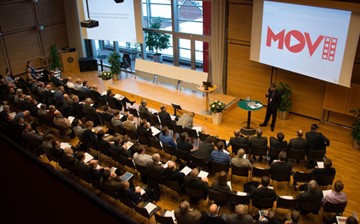 The entertainment industry lay at the receiving end of one of the gravest consequences: cinemas stayed shut, and releases were delayed, with many others being released on digital platforms. To overcome the situation, a highly renowned platform, Movii Technology LLC has gained solid credibility and a reputation for bringing new-age marketing based on cost-benefit analysis and has been in the news lately after the announcement of going global. Based in the center of the heart of the entertainment industry in California, the platform has recently completed a successful run of 4 years, taking pride in announcing to expand globally.
The entertainment industry has changed gears significantly in recent years, and Movii Technology LLC has seen exponential growth in its collaborations with globally renowned streaming giants such as Netflix and Disney+. As an alternative to otherwise complex algorithms, Movii Technology LLC simplifies the process of helping movies reach the masses before their release on the big screen. 
"We established in 2018 with one goal articulation: to become a global symbol of entertainment. We brought a never-like-before approach to the table, which many had doubts about, and rightly so. But over the years, Movii has helped over 1200 movies trend across the internet, witnessing a remarkable growth in viewership. The motto must be either thinking about the future or biting the dust. We are here with our state-of-the-art marketing approach, which guarantees results," Movii Technology LLC Team.
With the demand increase formula, Movii Technology LLC, has been able to help acquire higher ratings as "Upcoming Awaited Movies" of different genres, which the audience may choose based on their tastes. In order to maximize viewership, it has adopted the social media viral approach to building and expanding the online presence of a movie scheduled for release. As a strategic marketing partner in the entertainment industry, Movii Technology LLC has achieved a nearly 80% success rate in bringing an upcoming movie into the Top 10.
The company received national recognition and critical acclaim in 2021 for its unsurpassed services. This attracted the attention of entertainment giants who wished to work with Movii Technology LLC in order to promote and grow the entertainment industry. Movii Technology LLC also broke major headlines in 2021, when it received national recognition and critical acclaim. Recently, the team shared their aspiration and ambition to expand to every entertainment industry of the world, and as a result, they are engaged in talks for collaboration with Chinese entertainment companies like iQyi Tencent Video, Indonesian Vidio from South East Asia, dim sum and Tonton from Malaysia, and Viu from Hong Kong.
Joseph McKenzie, the Co-Founder and Chief Director of Movii Technology LLC shared, "We have onboarded HBOmax, Netflix, and Disney+, among others, and we shall continue to form bigger partnerships with giant entertainment firms. Statistics are clear for the foreseeable future. The global streaming market will continue to grow exponentially. The numbers add up for understanding how the new age entertainment industry shall operate." 
For further details, click on the website http://www.movii2u.net/.
About The Company
Movii Technology LLC is a high-end California-based new-age marketing platform established to revolutionize the entertainment industry's conventional marketing mechanisms based on cost-benefit analysis.
The Post Movii Technology LLC – A Highly Developed Future Entertainment Marketing Industry Established to Revolutionized the Conventional Marketing Mechanism appeared first on ZEX PR WIRE