Victoria, Seychelles, 8th September 2023, ZEX PR WIRE, Bitget, one of the most popular cryptocurrency exchanges, is proud to announce the introduction of its Copy Trading feature. Cryptocurrency trading can be daunting for newcomers and even experienced traders from other sectors. Bitget's Copy Trading makes it easier by allowing users to replicate the trading strategies of successful traders.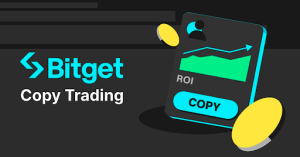 Bitget's Copy Trading has already shown remarkable results, with over 109,000 profitable copy traders earning more than 74 million USDT in cumulative profits in the first half of 2023.
What is Copy Trading?
Copy trading is a method where users can mimic the trading activities of experienced traders. Bitget's platform offers this feature, allowing traders to connect with and replicate the strategies of successful traders effortlessly. 
By copy trading, users can gain exposure to the market as if they were trading themselves, saving time and increasing the likelihood of profits with just a few clicks.
Getting Started with Copy Trading on Bitget
With over 540,000 copy traders on the platform, here's how you can join them:
Create an Account

: Visit

Bitget's

exchange and sign up for an account if you haven't already.
2. Access Copy Trading: Once logged in, navigate to the copy trading section.
3. Select a Trader: Choose from a list of elite traders based on criteria such as followers, historical ROI, and Assets Under Management (AUM).
4. Copy and Follow: Click "Copy" to start replicating the trader's actions and "Follow" to keep track of their trades. Use the VS icon to compare them with other elite traders.
5. Set Parameters: Choose the asset pairs and the amount you want to trade, either a fixed amount or a multiple of the elite trader's investment.
6. Confirm and Start: Click "Confirm" to begin copy trading.
The copy trading dashboard provides a clear overview of your followed elite traders, trade performance, open positions, and order history. You can also set up automatic unfollowing of inactive traders in the settings.
Becoming an Elite Trader on Bitget
For experienced traders looking to earn a secondary income, Bitget offers the opportunity to become an elite trader. To qualify, traders must have made at least 40 USDT in profits in the last seven days and not be following any elite trader. [See full requirements here](insert link).
Tips for Successful Copy Trading
Bitget's Copy Trading Earnings report for the first half of 2023 provides valuable insights:
– Diversify: Profitable copy traders often follow multiple elite traders and focus on intraday high-frequency trading for futures positions. They tend to hold spot positions for 2-3 days.
– Fixed Amount: Most profitable copy traders prefer using a fixed amount of funds for copy trading, averaging around 50 USDT.
– Asset Selection: Copy traders target new listings and established assets like BTC, ETH, BGB, and LTC.
– Elite Traders: Successful elite traders on Bitget have a 60% win rate for futures trading and a history of over 60 elite trades.
– Risk Management: Only 30% of copy traders set up a stop-loss for their copy trades.
While these tips are based on historical data and not guaranteed profit strategies, they offer valuable guidance for beginners.
Statistics on Bitget's Copy Trading
Bitget's Copy Trading feature has shown impressive statistics:
– 91% of copy-trade transactions are from futures traders.
– Spot traders account for only 9% of all copy trades but generated over 300,000 USDT in profits in the first half of 2023.
– Futures copy trading recorded over 16 million trades and 74 million USDT in profits.
– Copy traders spend 23% less time on the platform compared to regular traders.
– Top spot copy traders predominantly trade BTC, ETH, and BGB, while futures trading focuses on BTC and ETH.
– Traders under the age of 25 dominate the copy trading population, indicating growing interest among the younger generation.
– Geographically, copy traders on Bitget are mostly from Western Europe, followed by traders from East Asia.
Bitget prioritizes transparency, security, and providing the right tools for copy traders.
Conclusion
Bitget's Copy Trading feature simplifies cryptocurrency trading for all, allowing newcomers to learn from experienced traders while providing a secondary income stream for the veterans. It's important to note that past performance does not guarantee future results. Proper research and risk management are crucial when engaging in copy trading.