Not only the number of Bitcoin addresses has reached a new peak. The BTC trading volume is also at a record level. The market update.
The crypto market is denting yesterday's dent and is slowly turning the pointer back to green. The total market capitalization is two percent up on the daily basis and at the time of going to press it only just failed to hit the 2 trillion mark. Among the ten most valuable cryptocurrencies , the exchange token Binance Coin (BNB) stands out most clearly from the competition with an increase of nine percent. Ethereum ranks second in the top 10 coins with an increase of almost three percent. This is followed by Bitcoin (BTC) and XRP, each with a two percent price premium. Polkadot (DOT) and Dogecoin (DOGE) at least recorded moderate increases of up to one percent.
On the losing side are Cardano (ADA) and Solana (SOL), who turn into the red with 1.7 and 1.1 percent. In a weekly comparison, however, the entire list of the largest cryptocurrencies by market capitalization is still in the red. Dogecoin and Polkadot have the largest arrears to catch up with double-digit discounts. On the other hand, Bitcoin and Binance Coin are gradually making up for their losses. Both cryptocurrencies are only 0.5 percent in the red on a weekly basis.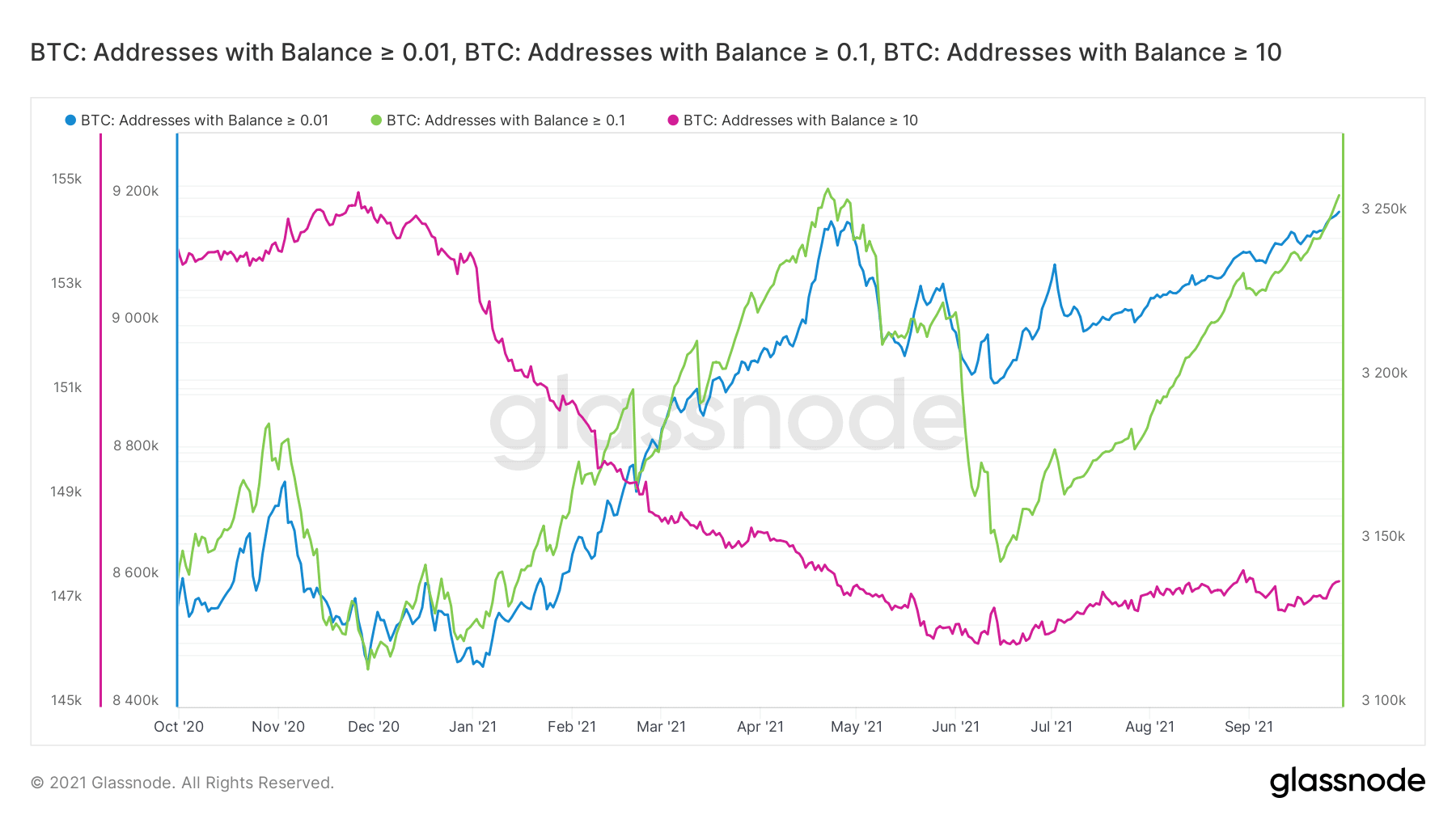 Bitcoin addresses on the rise
After the sleepy summer months, more and more investors are gradually pouring into the Bitcoin network. Both the number of addresses holding 0.01 bitcoin or more and the number holding 0.1 and more bitcoin have hit new record highs. The network currently has over 9.1 million addresses that hold ≥ 0.01 BTC and over 3.2 million addresses that hold ≥ 0.1 Bitcoin.
In contrast, the number of whale addresses continues to decline. According to Glassnode, the network currently has 147,000 addresses that hold 10 or more Bitcoin.
BTC transaction volume hits record high
This development correlates with a significant increase in trading volume. On Sunday, September 26th, Bitcoin transaction volume hit a new all-time high of $ 29 billion. According to analyst Kevin Rooke , there have only been five days "on which the Bitcoin network has turned over more than $ 20 billion". Three of them were this week.
Hodl mood
Both short-term and long-term investors seem to be in the mood to buy again. According to a Cryptoquant analyst, "short-term hodlers are increasing the number of their Bitcoin holdings very dynamically". The same applies to medium-term and long-term hodlers who "return to accumulation".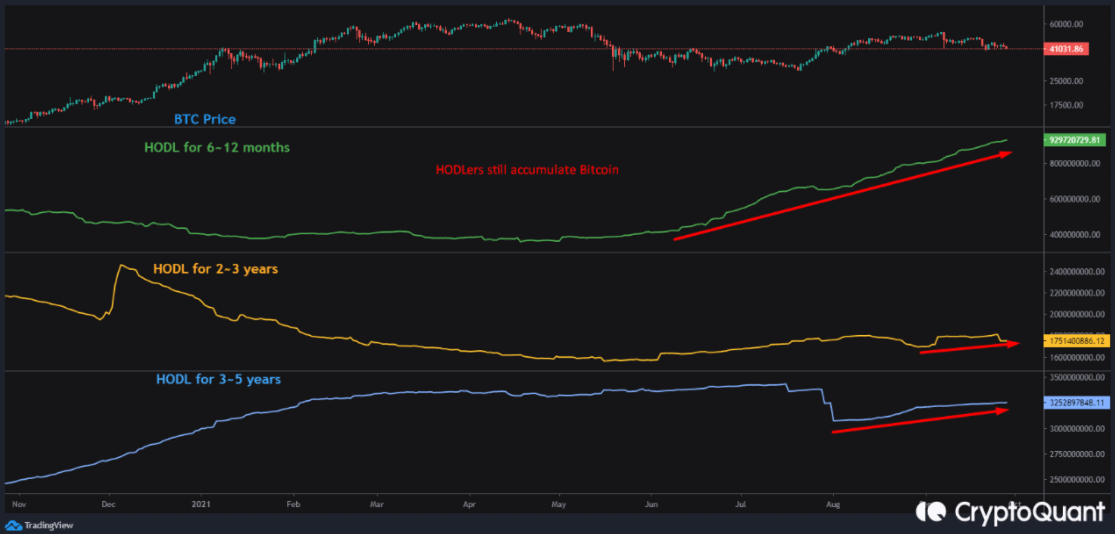 Source: Cryptoquant
Overall, an accumulation trend among investors can be deduced, which ultimately allows only one conclusion for the analyst: "We are still in the bull market".
Bitcoin Price Prediction and Forecast: BTC Could Easily Cross $100,000?
Bitcoin News Latest
Jerome Powell, the United States' Federal Reserve Chairman says "it is necessary for Cryptocurrency to be regulated." He even said that the bank has no intention to outrightly ban bitcoin (BTC) or other digital currencies.
Bobby Lee, co-founder of the BTCC exchange 
I'm very bullish on Bitcoin, especially for an end-of-year rally, a FOMO rally this year. So expected Bitcoin prices to break out again in the next few weeks and months… I think it will easily go over $100,000 and depending on how sharp the rally is it's also likely to even touch $200,000 or above that.
The House Ways and Means Committee is trying to shut down one of the most lucrative crypto tax loopholes. Bitcoin holders have a few months to take advantage of a tax loophole that could go away in 2022
Anthony Pompliano on the ban of Cryptocurrency by China,
"This is the most American technology that we have today, similar to the internet. China is making a massive geopolitical mistake here. Now it's up to the United States… If someone is going to benefit from this technology, we better make sure it's us."
Gary Gensler, the US Securities and Exchange Commission chairman on Bitcoin futures ETFs,
The SEC is reviewing more than a dozen ETF filings for bitcoin and bitcoin futures products, among others, but none have been approved yet. Gensler reiterated his support Bitcoin Futures ETFS.
Tesla CEO Elon Musk says the US government should avoid regulating Crypto. At the Code Conference in Beverly Hills, California, Elon Musk said,
It is not possible to, I think, destroy crypto, but it is possible for governments to slow down its advancement.
A former lead developer for the Bitcoin network, Gavin Andresen predicts that BTC will reach a price of $6 million per coin in 2061. However, he added  $1 million dollars today will be worth $6 million in the next forty years, due to massive inflation.
"Eventually, there are zero new BTC being produced on the BTC network, and zero BTC circulating on the BTC network. There is nothing left to secure, and the chain stops."
Bitcoin Price Prediction and Forecast: Why is BTC Recovering?
Bitcoin underwent a volatile weekend with its price tumbling below $40,000 amid China's crackdown. However, the prices are up again and are closing the $45,000 mark.
The prices of Bitcoin went up after Twitter officially enabled third-party bitcoin tipping services for iOS users. Now the platform gives users the ability to seamlessly pay one another across the globe, nearly instantly.
Added to it the growing industrial acceptance of Bitcoin is helping the Crypto rise despite facing a crackdown.
Bitcoin Price Prediction Daily and Forecast: Where is Bitcoin heading?
After hovering just above $45,000, Bitcoin is now over $48,000 and soon it may touch the $50,000 mark once again. Cathie Wood, CEO of ARK Invest, predicts that the bitcoin price could hit $500,000 over in next five-year. However, for Bitcoin to hit such a milestone, she believes a couple of key industry needs to include Bitcoin in their finances. Companies must continue to move out of cash and into bitcoin on their balance sheets.