The truck division of the German auto company Daimler held the world premiere of the Mercedes-Benz GenH2 truck tractor concept in Berlin on September 16. The truck has a gross weight of 40 tons, a carrying capacity of 25 tons and a cruising range of 1000 km. The pre-production version, which will appear in 2023, will be equipped with two electric motors with a capacity of 230 kW each (peak power 330 kW each) and a torque of 1,577 Nm each (maximum torque – 2,071 Nm each).
The production version will appear after 2025 and will have a 300 kW fuel cell system and a battery that can temporarily provide an additional 400 kW of power during peak loads or when driving uphill. The battery capacity will be 70 kWh. Hydrogen fuel cells convert the chemical energy of the fuel into electricity.
Unlike other companies' developments, the GenH2 fuel cell system does not operate on gaseous (storage at 700 bar), but on liquid hydrogen (storage at minus 253 degrees Celsius). This will allow the use of significantly lighter and smaller fuel tanks – the GenH2 will have two, 40kg each. The disadvantage of this option is the relatively undeveloped infrastructure of liquid hydrogen refueling in the world (about 10% of the total number of hydrogen refueling stations).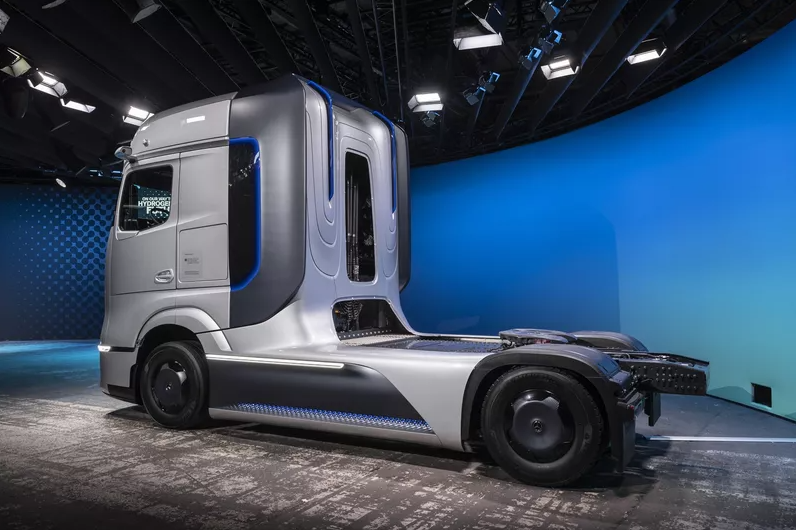 In addition to GenH2, the Germans presented another novelty – the Actros LongHaul medium-haul truck tractor with a power reserve of up to 500 km. The electric truck, which Daimler has yet to disclose, is slated to begin production in 2024. Both innovations use a new modular ePowertrain platform that will power all medium and heavy duty electric and hydrogen trucks, helping the company reduce production costs. The trucks will initially be sold in Europe, with versions for the American and Japanese markets coming a bit later. Daimler has previously introduced the eActros electric truck with a range of up to 200 km. It will go into serial production as early as 2021.
"Battery trucks will be more likely to be used for lighter load weights and for shorter distances. And fuel cell trucks will be the preferred option for heavier loads and longer distances. Our Mercedes-Benz concepts GenH2, eActros LongHaul and eActros, as well as electric trucks from the Freightliner and FUSO brands, will enable us to offer customers the right options for their needs, "said Daimler Trucks CEO Martin Daum.
Daimler's presentation coincided with a high-profile scandal in the United States: a startup for the production of hydrogen and electric trucks Nikola, founded in 2014 in Utah by energetic entrepreneur Trevor Milton and has already collected, according to its own statements, orders of more than $ 10 billion, so far, in fact, did not present anything except beautiful pictures and a video of the prototype of the truck, in which, as it turned out, he did not drive himself, but rolled down a hill. A report with a detailed analysis of the statements of the company's management, its plans and technologies, published by one of the short-sellers of Nikola shares (the startup conducted an IPO in June 2020, the market capitalization reached $ 20 billion this year), forced the Securities and Exchange Commission and the Ministry US Justice to initiate an investigation against Nikola.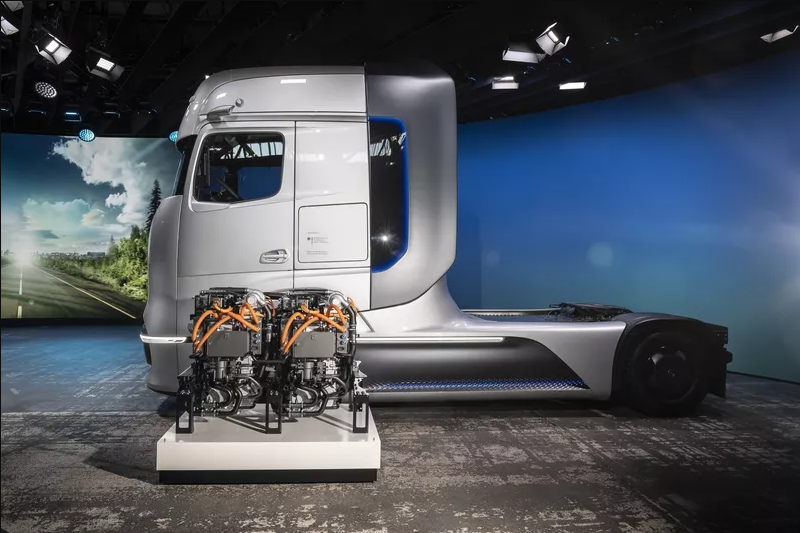 It is noteworthy that the report appeared a couple of days after Nikola made a deal with the American auto giant General Motors: the startup transfers to GM a stake in the amount of $ 2 billion (for this, an additional issue will be carried out) and the right to appoint one member of its board of directors, and in return gains access to GM's components (including batteries and fuel cells) and manufacturing facilities to design and manufacture its Badger concept electric pickup, and possibly its trucks (One, Two and Tre concepts). Nikola shares rose 41% after the announcement of the deal, and fell 36% after the publication of the report.
While the US is investigating whether Nikola is a big scam or a real tech startup, Daimler's truck division executives paid particular attention to describing the technical details of their truck electrification program during the presentation. Daum emphasized that his company is working with rival Volvo Trucks to develop fuel cell systems: in April 2020, the partners agreed to create a joint venture on a parity basis. To this end, Daimler will donate all of its expertise to the new Daimler Truck Fuel Cell, in which Volvo Trucks will subsequently receive 50%.
In light of the scandal with US startup Nikola, the Germans have focused on technology.