While Nvidia has completely abandoned cooling systems with a centrifugal fan, Gigabyte decided to equip one of the GeForce RTX 3090 modifications with a "turbine". Please note that the standard TGP (Total Graphics Power) level for this video card is an impressive 350 watts.
The novelty from Gigabyte received the uncomplicated name of the GeForce RTX 3090 Turbo. To tame the "hot temper" of the most powerful single-chip video card to date, the Taiwanese vendor used a copper radiator, vapor chamber, heat pipe, and metal casing. An 80-mm "spinner" on a double rolling bearing is responsible for the blowing of this structure, and a reinforcing plate covers the backside.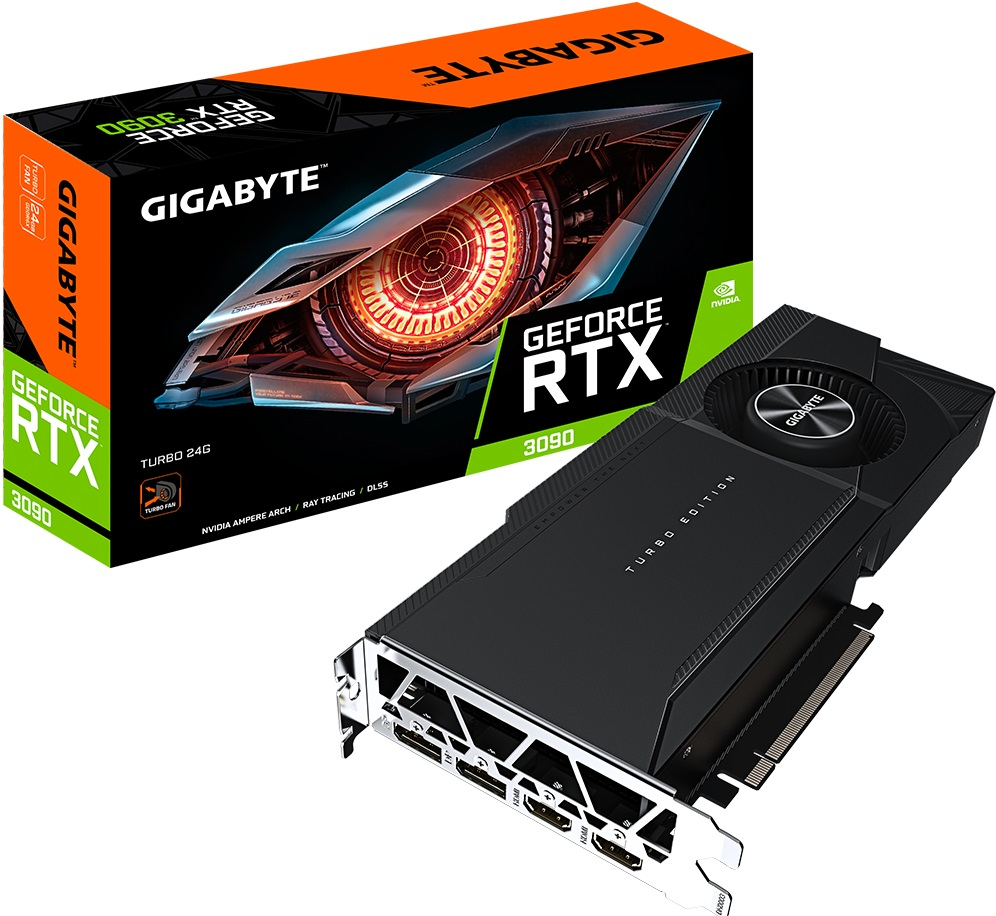 You can also highlight the large openings in the rear panel through which exhaust air is discharged. Operating frequencies are fully consistent with the recommended Nvidia: 1395-1695 MHz for the 8-nm GA102 core and 19.5 GHz (effective) for 24 GB of GDDR6X memory. An additional power supply is connected via a pair of 8-pin connectors; for image output, two HDMI 2.1 and DisplayPort 1.4 are provided.
No information has been reported regarding the retail price of the Gigabyte GeForce RTX 3090 Turbo. It will most likely be as close as possible to the recommended UAH 50.2 thousand (or $ 1499 for the US market). Official sales of GeForce RTX 3090 video cards will start on September 24.
Additional exciting detail of the novelty is the presence of the NVLink interface. A plug on one bolt hides it. Recall that NVIDIA excluded its presence in all models of the RTX 30xx series, leaving the interface only for the RTX 3090 model. However, unlike most other cards of this model and even the most reference sample made by the Founders Edition, Gigabyte's new product will occupy only two expansion slots. In theory, this will simplify the installation of the card and the organization of the SLI configuration.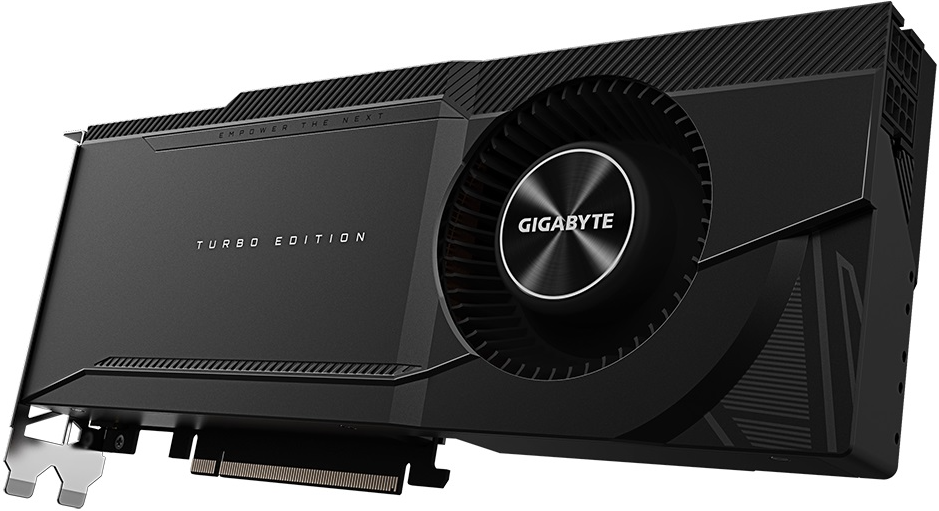 On the day the GeForce RTX 3080 starts selling, NVIDIA released the GeForce 456.38 WHQL driver, which not only unlocks the full potential of new GPUs, but also improves the performance of 11 games on previous generation video cards.
The driver adds support for ray tracing and DLSS technology in Fortnite , and improves the performance of two upcoming releases – Halo 3: ODST and Mafia: The Definitive Edition .
NVIDIA also fixed issues for Call of Duty: Modern Warfare , Detroit: Become Human , Forza Horizon 4 , Horizon Zero Dawn The Complete Edition , Minecraft Java Edition, World of Warcraft, and Marvel's Avengers .
Another interesting driver feature is performance enhancement that works in 20XX and 30XX cards. In fact, this is an auto overclocking utility built into GeForce Experience: first, it tests the video card in different modes for 20-30 minutes, and then determines how much to increase its frequency. In this case, the user can, for example, specify the desired maximum fan speed, if he wants to prefer silence to maximum overclocking.