Mercedes is presenting the impressive MBUX Hyperscreen in the run-up to CES 2021. In the future, this will be optionally available in the fully electric EQS ​​luxury sedan.
The car world is already eagerly awaiting the EQS – the first all-electric luxury sedan from Mercedes, which is due to appear in the first half of 2021. The German automobile manufacturer is now using the upcoming Consumer Electronics Show (CES), which will be taking place entirely digitally this year, to present one of the highlights that will be found in the EQS (optional): the MBUX Hyperscreen. This is a further development of the MBUX entertainment system from Daimler. And it can really be seen! (Also read: Maybach S-Class – The luxury sedan arrives in the ultra-luxury segment )
MBUX Hyperscreen: The cockpit of the EQS becomes a digital control center
The futuristic MBUX hyper screen is a real eye-catcher. It extends over almost the entire width of the vehicle from the left to the right A-pillar. The screen acts as an information center for the driver and front passenger. Entertainment functions are also available to the front passenger. The plastic front frame was bent three-dimensionally. This enables an optimal view over the entire width of the vehicle, regardless of the radius of the cover glass. Mercedes completely dispenses with submenus and therefore refers to the touchscreen system as a zero-layer.
View this post on Instagram
Mercedes screen system equipped with artificial intelligence
The hyperscreen is a high-tech assistance system for driver and front passenger that is constantly learning new things with AI technology . An example of the use of artificial intelligence is the "vehicle lift-up" function, which can be used, for example, at steep garage entrances. If this is often used in the same place, the system remembers this via GPS – and suggests the driver to lift the car the next time. (Also interesting: Daimler sales director Britta Seeger and Leica COO Dr. Marita Paasch in an interview: Why a binding quota is not the solution )
New hyperscreen "brain and nervous system" of the Mercedes EQS
"The MBUX Hyperscreen is both the brain and nervous system of the car," explains Sajjad Khan, CTO and board member of Mercedes-Benz AG, in a statement. "The MBUX Hyperscreen gets to know the customer better and better and delivers a tailor-made, personalized infotainment and control offer before the passenger has to click or scroll anywhere."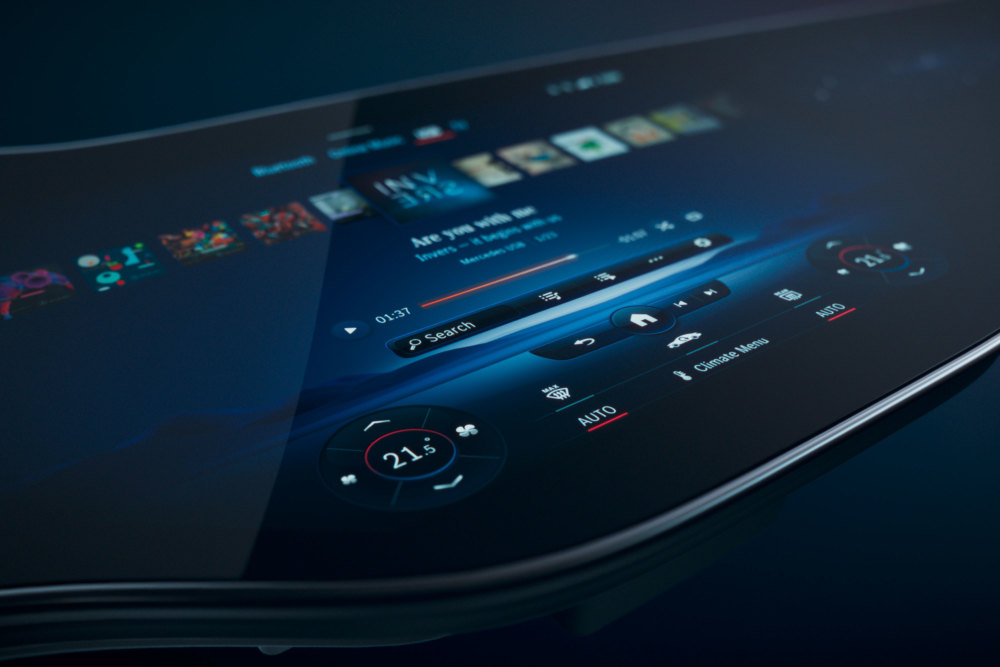 The Chief Design Officer of the Daimler Group, Gorden Wagener, is also enthusiastic: "With our MBUX Hyperscreen, a design vision becomes reality. We combine technology with design in a fascinating way. This offers the customer unparalleled user-friendliness."
The MBUX Hyperscreen is not part of the Mercedes EQS as standard, but can be ordered as an option. It is based on an eight-core CPU with 24 gigabytes of RAM.