alvadorans are investing more and more in Bitcoin to protect themselves from inflation. Bitcoins purchased with US dollars would exceed withdrawals, at the level of Chivo ATMs.
Bitcoin vs US dollar: Salvadorans take refuge from greenback inflation
Salvadorans are turning to Bitcoin as a hedging asset . They are increasingly converting their US dollars into Bitcoins to protect themselves from inflation . The President of El Salvador, Nayib Bukele, has also underlined the importance of Bitcoin deposits compared to withdrawals from Chivo ATMs :
"People spend more US dollars (to buy BTC) than they get from Chivo vending machines. "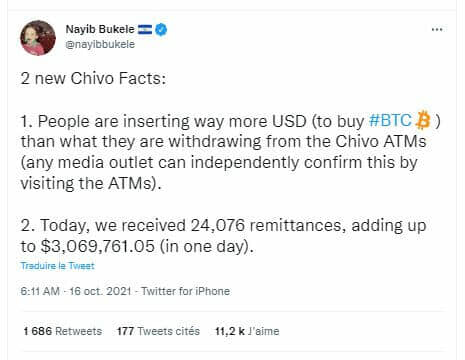 Bukele also referred to the high amount of daily transactions processed by Chivo  : 24,076 money transfer requests on the day of his tweet alone, "a total of $ 3,069,761.05 (in one day). "
Bitcoin adoption race in El Salvador: ATM Chivo, trade cuts, and volcanic mining
These figures seem to show a positive development in the sentiment of Salvadoran citizens in Bitcoin . The legalization of the latter was initially met with strong opposition from some Salvadorans . A Bitcoin ATM was even burned down during a protest.
The authorities, however, continued their efforts to encourage the adoption of Bitcoin by its citizens, despite these internal opposition to which are added threats from rating agencies or warnings from the UN and the IMF .
Bitcoin is thus in the process of "physically" covering the entire territory. El Salvador is indeed became the 3 rd country in the world with the most ATMs Bitcoin , ahead of the UK. The country has even gone so far as to install 50 Chivo vending machines for the Salvadoran diaspora in 10 cities in the United States . El Salvador's rulers are also offering discounts of 20 cents of the US dollar on every gallon of fuel paid in Bitcoin to encourage citizens to adopt Bitcoin.
In this race for adoption, the President of El Salvador also unveiled at the end of September 2021, images of what appeared to be a Bitcoin mining farm powered by electricity generated by geothermal energy .
The Salvadoran government is now among the major investors buying troughs to fill up on Bitcoin at lower prices . If more Salvadoran citizens today seem inclined to hold Bitcoins, how will they react in the next major Bitcoin price retracement after the next bullish wave?