Bitcoin (BTC)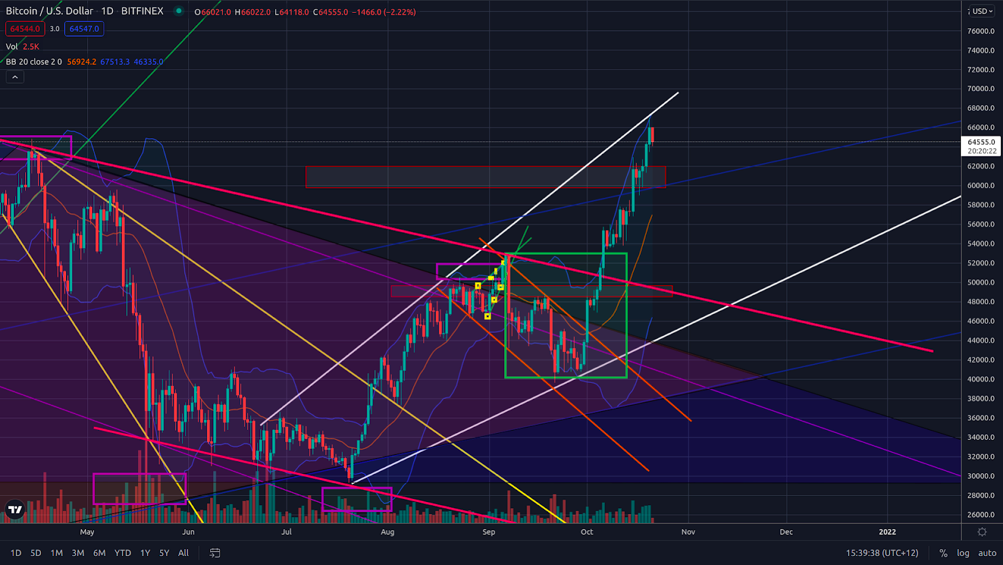 Unsurprisingly, bitcoin established a new ATH. It would be enough to reach $ 65,000 (€ 55,849), but the bulls decided to take the price of the asset to $ 67,000 (€ 57,562) immediately. At the time of writing, BTC had a slight correction and is trading at around $ 65,000 (€ 55,849).
Technically, as I expected, bitcoin reached the upper edge of the expanding white channel, after which a natural correction began. On the other hand, there is no reason to believe that the growth of the first cryptocurrency is over. We have just broken the downtrend line and it is very likely that after a small flat we are heading to the previously unknown heights. At this stage, no obstacles are foreseen, except for possible plans for the first cryptocurrency by the whales. Additionally, the SEC continues to provide positive news. Thus, he approved another ETF, this time from Vaneck. It will be released next week.
Ethereum (ETH)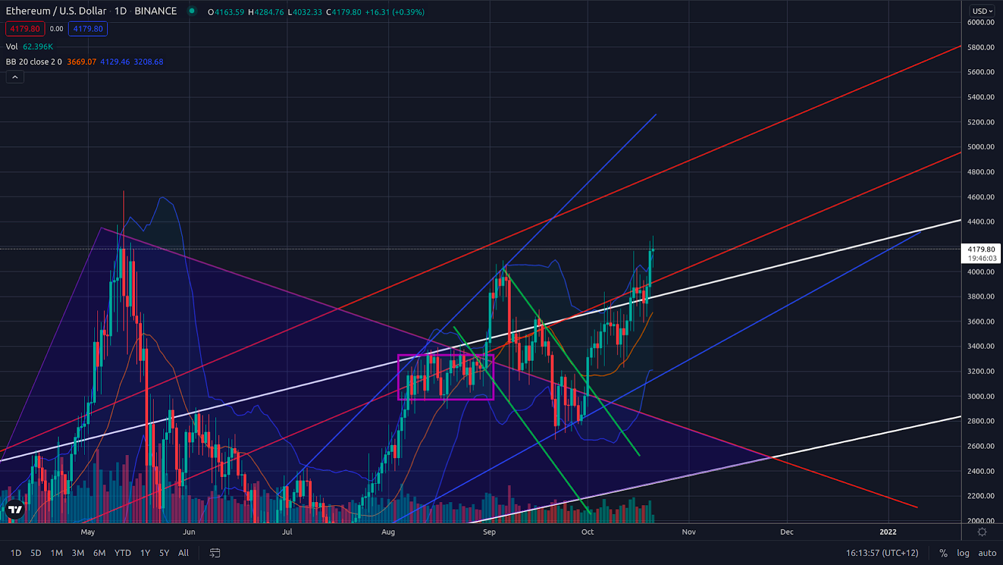 Ethereum rallied and took a significant leap towards ATH. Although ETH has not reached its absolute maximum price, it perked up and showed that it would continue to rise. At the time of this writing, the second-largest digital asset by capitalization is trading at around $ 4,200 (€ 3,608), with just under $ 500 (€ 429) left for its ATH.
If ETH suddenly decides to repeat the path of bitcoin, we should expect this asset to reach the upper edge of the expanding blue channel. In this case, the price of Ethereum will exceed $ 5,000 (€ 4,295).
Bitcoin reached its ATH, broke the downtrend line and now nothing is preventing it from reaching both $ 70,000 ( € 60,140 ) and $ 100,000 ( € 85,914 ) . The only problems may be just uncertainty on the part of sellers or manipulation of the market by whales. Now the market sentiment is bullish, resulting in many first cryptocurrency purchases and many leveraged long positions. This, in turn, is a good manipulation opportunity for whales that at some point can trigger a series of long position closings via stop loss or liquidations, crashing the market.