As of June 12, 2021, the Bitcoin Network (BTC) has been patiently awaiting the entry into force of its Taproot update . Since this Sunday, November 14, it's now done, and this soft fork brings interesting improvements for users of the blockchain created by Satoshi Nakamoto.
The face of Bitcoin forever changed by Taproot
It's official ! The Bitcoin network code has just undergone its largest update since the addition of Segregated Witness (SegWit) in August 2017. The Taproot soft fork and its protocol changes are now fully operational.
The Taproot upgrade for Bitcoin has officially activated.

Congratulations and thank you to every developer, miner, and Bitcoiner who made this happen. ⚡️

— Pomp 🌪 (@APompliano) November 14, 2021
The activation occurred exactly at block 709 632 , around 6:15 a.m. (Paris time), this Sunday, November 14, 2021 . It is the F2Pool mining pool that had the honor of validating this block of transactions, which marks an important evolution of Bitcoin.
As Trustnodes explains in a post , a welcome message to Taproot was hidden in a transaction in this block, marking the event with a small "gm taproot" (for "Good morning Taproot" ).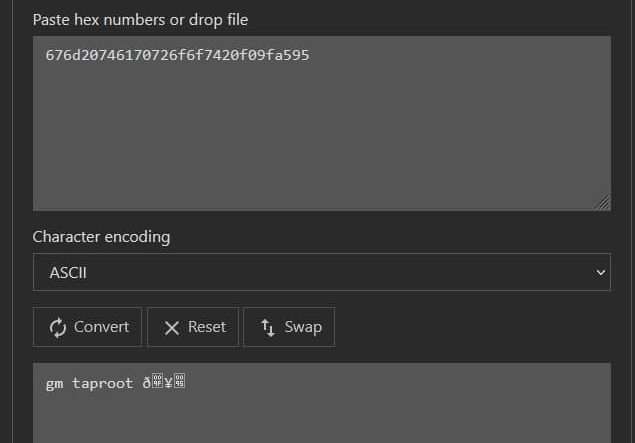 More confidentiality and smart contracts on Bitcoin
Among the improvements made by Taproot comes in particular the principle of Merkle trees , in the form of Merkelized Abstract Syntax Trees (MAST) which will bring more scalability and confidentiality to transactions on Bitcoin.
Similarly, the principle of Schnorr signatures will allow network users to combine several signatures into one for a transaction. This will mask the difference with simple ordinary transactions, thus making the multisig nature of these multi-signature transactions invisible.
The smart contracts will also become easier to achieve on Bitcoin. This should attract developers, and therefore the creation of decentralized applications (dApps) on the main BTC network, but also on the Lightning Network , where transaction costs are minimal and exchanges almost immediate.
Finally, a little icing on the cake for users: Taproot should also have a slight effect of reducing transaction fees on Bitcoin's mainnet.
Even if it is of course still too early to begin to concretely perceive the beneficial effects of the Taproot soft fork, it will undoubtedly allow the Bitcoin network to be much more complete than before for its users. To learn more about the improvements brought by this update, we have put together this technical guide on Taproot .