For many months, the Ethereum (ETH) network has faced massive congestion resulting in higher transaction fees . Fortunately, second-layer solutions continue to multiply and become more democratic. Among these, Arbitrum that Binance will now support.
Ethereum and its second layer solutions
Ethereum has been at the heart of crypto news for more than 2 years, in particular thanks to the DeFi phenomenon . Indeed, it is on the Ethereum blockchain that the DeFi ecosystem is the most developed. This currently totals an TVL of 170 billion dollars , or more than 65% of the total TVL of the DeFi ecosystem through the various blockchains that make it up.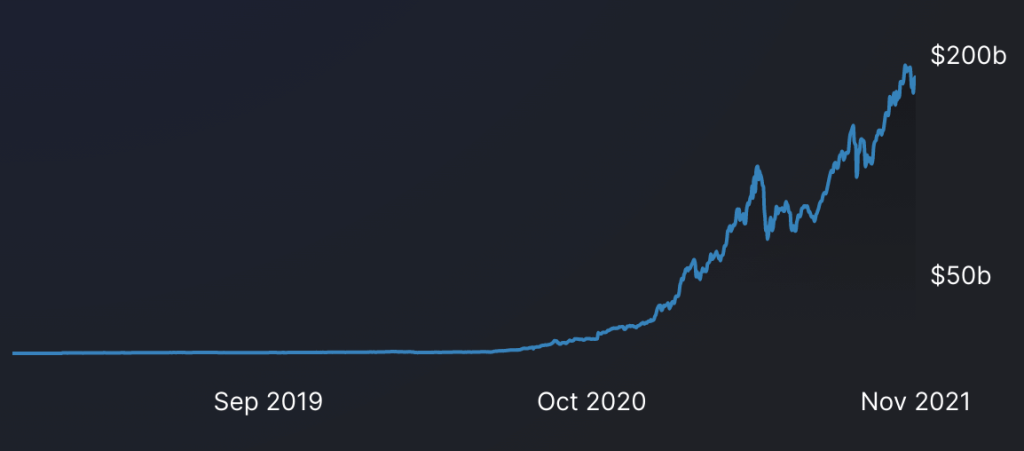 However, faced with the massive arrival of new users, the network is pushed to its limits. Therefore, transaction fees make any interaction with a smart contract extremely expensive for small wallets.
To deal with this problem, many so-called second layer (or layer 2 ) solutions have emerged. These aim to deport part of the load out of the Ethereum chain in order to unclog it.
Unfortunately, access to these solutions can also be restrictive . Indeed, it is necessary to carry out a transaction on Ethereum to send funds to these second layer solutions. As a result, their access is once again restricted for small wallets, not having the means to spend a hundred dollars in fees.
Binance to Arbitrum's rescue
On November 19, the exchange platform Binance has announced the addition of support for the second layer Arbitrum solution.
"Binance is completing the integration of the Arbitrum One mainnet and has opened ETH deposits on the second layer of Arbitrum One. Please find your assigned ETH deposit addresses on the Arbitrum One network in the 'Deposit Crypto' page. "
Now, Binance users will be able to send their funds directly from Binance, without having to go through the bridge between Ethereum and Arbitrum. At the moment, transfers are restricted to ether , but other cryptocurrencies may well be added in the future. Withdrawals from Arbitrum to Binance should also be possible in the coming months.
ICYMI: #Binance has completed @arbitrum integration.https://t.co/bZ2D1TcN6t

— Binance (@binance) November 22, 2021
As a reminder, Abitrum is a second layer solution, the mainnet of which was launched last September . This takes advantage of the power of optimistic rollups , a technology allowing off-chain transactions to be deported.
The support of exchange platforms for second layer solutions is a central point of their adoption. Indeed, it allows users to bypass cross-chain bridges and, therefore, avoid crazy transaction fees. A godsend for small portfolios wishing to discover second-layer solutions without breaking the bank.
Meanwhile, other projects continue to refine their second layer solution. This is particularly the case of Polygon (MATIC), which has just announced  Polygon Miden, a second layer solution based on zk-Rollups .