Proof of stake, which can also be written as proof-of-stake or PoS, is a consensus that allows certain cryptocurrencies to work. In French, we can find the name "proof of stake" even if the English version is also commonly used.
In this article, we will see together, in very broad terms, how PoS works, the digital assets that use it and its advantages over other consensuses.
How does PoS work in general terms?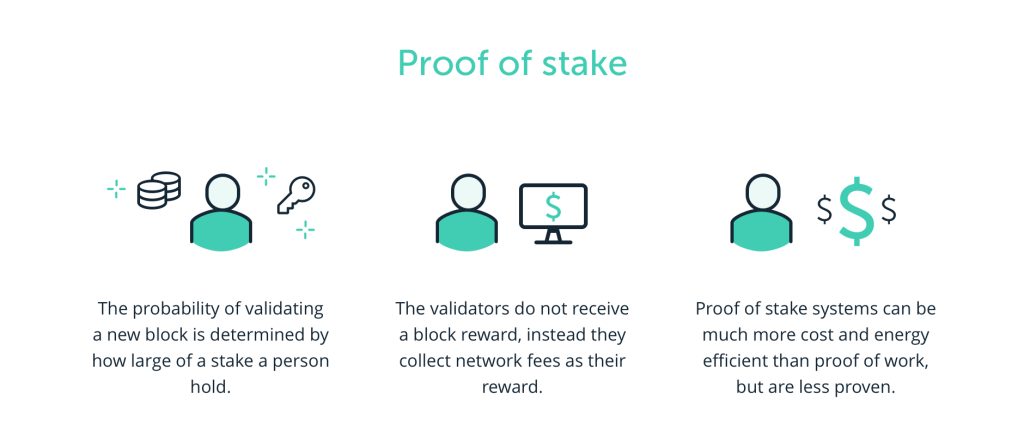 The PoS works thanks to tokens that users place in "stake", that is to say that they pledge. By having placed a certain number of tokens in stake, they can then become validators of the network or delegate the tokens that they have staked to other verifiers in exchange for remuneration. In the latter case, we can then speak of delegated proof of stake (DPoS).
When you become an auditor on the network, you then take care of processing transactions and ensuring that they are compliant. In case of correct processing of transactions, we are rewarded via project tokens (in most cases). On the other hand, if we act fraudulently, we are punished and we lose tokens with the risk of being excluded from validators.
This way, the people who deal with validating the transactions have an interest in remaining honest as they can be penalized with the stakes they have pledged to become an auditor on the network.
Also Check:
What are the most famous cryptocurrencies that use proof-of-stake?
There is a lot of different consensus and not all cryptocurrencies use proof-of-stake. Likewise, each digital asset that uses PoS uses a different version of this consensus compared to another.
Among the most capitalized projects of the moment, here are 3 that use proof of stake as a consensus:
However, a juggernaut plans to go into proof-of-stake soon: Ethereum 2.0. As of this writing (July 2021), the Ethereum blockchain is still operating on a proof-of-work consensus, but a future update should switch the network to PoS.
What is the main benefit of proof of stake?
Proof-of-work, with Bitcoin in mind, has an appalling reputation in terms of its impact on the environment. Indeed, for such a system to function and be as secure as possible, it is necessary to have overpowered mining devices that spend a lot of energy, much more than some countries in the world.
With proof of stake, the computing power required to verify transactions is considerably less. Indeed, by forcing the transaction verifiers to pledge tokens, they have no interest in trying to manipulate the transactions that take place on the network, otherwise they can be financially sanctioned.
Since the incentive to cheat is almost reduced to zero, it is no longer necessary to have to use huge power resources to process transactions. The algorithms can then be less complex, which results in significantly lower energy demands.
Conclusion on proof of stake
Proof of stake is a consensus that exists among many others in the blockchain industry. Its specificity is to ask people who want to verify transactions to pledge project tokens (proof of stake).
When they act honestly, they are then rewarded by mostly getting tokens from the project. On the other hand, when they try to cheat by not approving transactions correctly, then they can be sanctioned by losing the tokens they pledged and being excluded from the list of people authorized to verify the transactions.