2021 will undoubtedly have been the year of the NFTs. The latter have never met such enthusiasm as much from the crypto ecosystem as from the general public. Obviously, everyone is looking to take their piece of the pie.
Coinbase on the assault on NFTs
Coinbase is one of the popular mainstream cryptocurrency buying and selling platforms. With its 8.8 million monthly users, the platform now wants to diversify its activity by entering the NFT niche.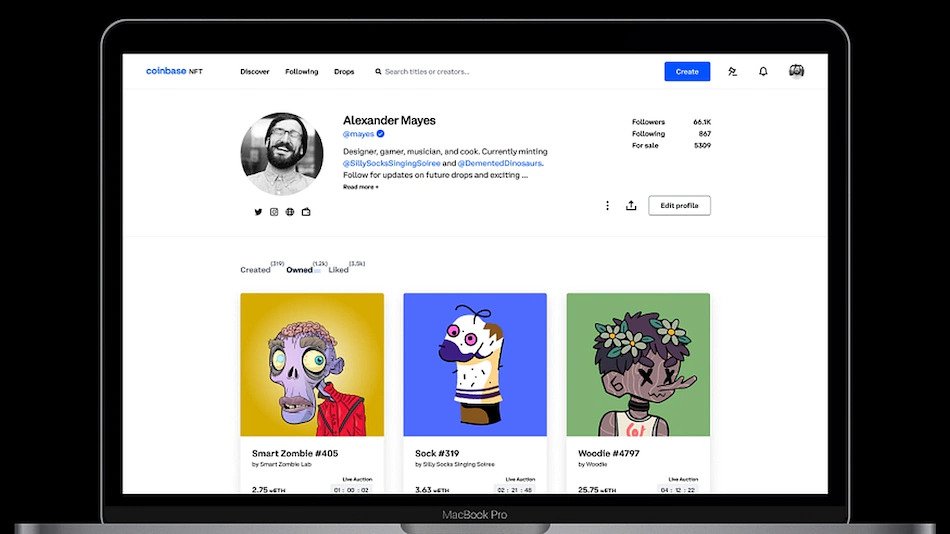 On October 12, Coinbase announced the upcoming launch of Coinbase NFT , a marketplace specializing in non-fungible tokens. This platform will make it possible to manage the life of the token from end to end, from creation to sale.
"Just as Coinbase gave millions of people easy and reliable access to bitcoin for the first time, we want to do the same for NFTs." The announcement
Initially, the platform will focus on the two most popular Ethereum NFT standards, namely ERC-721 and ERC-1155. However, Coinbase is already considering adding support for other blockchains in the future.
While no official launch date has been revealed, Coinbase has put together a list of expectations for early access to the platform.
"We make NFTs more accessible by creating user-friendly interfaces that leave out the complexity. We're adding social features that open up new avenues of conversation and discovery. "

The announcement

The competition is tough
Coinbase is throwing itself headlong into this ecosystem where competition is increasingly fierce.
Until now, the OpenSea platform remains largely the market leader and records the overwhelming majority of the volume. This is followed by the Rarible and Nifty Gateway platforms. 
However, this monopoly could change with the arrival of new players in the game. So, in turn, the Binance and FTX exchanges both launched NFT buy and sell platforms.
In the face of rising Ethereum transaction fees, many users may well prefer the centralized platforms offered by Binance, Coinbase, or FTX.
What's more, the giant OpenSea may well lose its throne following revelations of insider trading, committed by product manager Nate Chastain. In total, the latter took advantage of his position to generate a profit of 19 ETH on 11 NFT.
Other NFT platforms are emerging on blockchains other than Ethereum's. Thus, the crazy developer of DeFi, Andre Cronje, has announced the launch of an NFT platform on the Fantom blockchain .