Proof of work, which can also be found written with proof-of-work dashes or under its abbreviation PoW, is a consensus that governs the operation of certain blockchains. In French, we can translate this term by proof of work, even if we very often find the English version of the name.
In this publication, we will see how this consensus works, its advantages and give some examples of crypto assets that use proof of work.
How does PoW work in general terms?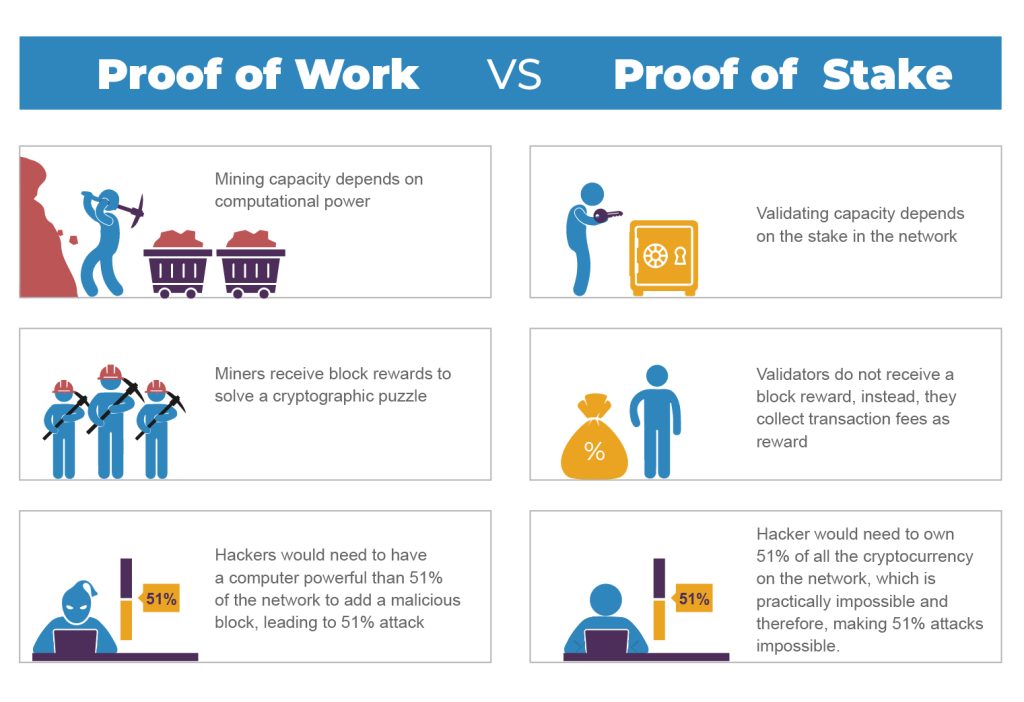 PoW works by solving mathematical equations, which requires doing "work" through computer components that generate the necessary computing power. Depending on the crypto assets, it is possible to carry out these operations with a simple PC or by owning what is called a mining farm, a group of computers or overpowered graphics cards that provide a lot of computing power.
To secure the network, miners compete with each other to first solve the mathematical equations that allow a transaction to be validated or a mining reward to be obtained.
Due to the significant computing power required to process operations, the network is extremely secure because it is therefore necessary to have even more powerful hardware to obtain at least 51% of the total computing power in order to manipulate the transactions to its advantage.
Also Check:
Bitcoin (BTC) and cryptos: what is ATH?
Bitcoin (BTC) and cryptos: what is ATL?
What are the most famous cryptocurrencies that use proof-of-work?
Proof-of-work was the first consensus used in the cryptocurrency world and for good reason: Bitcoin itself uses it, the digital asset that is currently the most capitalized. Due to the fact that a large number of altcoins that entered the market were BTC clones, many of them also use this consensus.
Here are 3 examples of digital assets that use PoW:
As of this writing (July 2021), Ethereum also uses a proof of work consensus. However, Ethereum 2.0 plans to change the algorithm to switch to PoS (proof of stake) during an update.
Nowadays, most of the digital assets that are entering the market are trying to offer a new type of consensus because proof of work is very energy intensive, which poses ecological problems.
What is the main advantage of proof of work?
The main advantage of proof of work is the security that such a consensus brings to a cryptocurrency's network. Indeed, to succeed in taking control of a digital currency, it is necessary to have more than 50% of the total computing power (51% attack), which is extremely expensive in such a system.
For example, the Bitcoin blockchain has never been hacked since its conception, which is proof that the security provided by a PoW consensus is very important and that it is difficult to successfully manipulate a cryptocurrency.
Nevertheless, we must admit that the energy expenditure to operate the Bitcoin PoW system is quite mind-blowing. In addition, you must constantly modernize your computer hardware to be able to continue mining certain digital assets that use this consensus, which effectively ejects small players and centralizes mining operations with large players who can enable these investments. (Vitalik Buterin denounces the Bitcoin (BTC) adoption policy in El Salvador )
Conclusion on proof of work
The proof of work was the first consensus to appear on the market because it arrived at the same time as Bitcoin, the first functional cryptocurrency. Its main advantage is that it provides significant security, but its main disadvantage is that it pollutes a lot.
To get rewards by securing a PoW blockchain, you have to solve complex mathematical operations, which is only possible if you have computer hardware powerful enough for it or if you join a mining pool to share its computing power with other minors.