Ohio City, Ohio, May 24, 2023, ZEX PR WIRE, SuiPad, the leading launchpad for tier 1 projects on the sui network, is thrilled to announce the upcoming IDO of GPT Guru on June 5th, 2023. This partnership marks a significant milestone for the AI industry, as GPT Guru, a revolutionary AI-powered platform that aims to empower the Web 3.0 community and fuel their creativity and productivity. GPT Guru harnesses the power of artificial intelligence and machine learning to bring precision and innovation to developers, artists, traders, content creators, and everyone involved in the blockchain ecosystem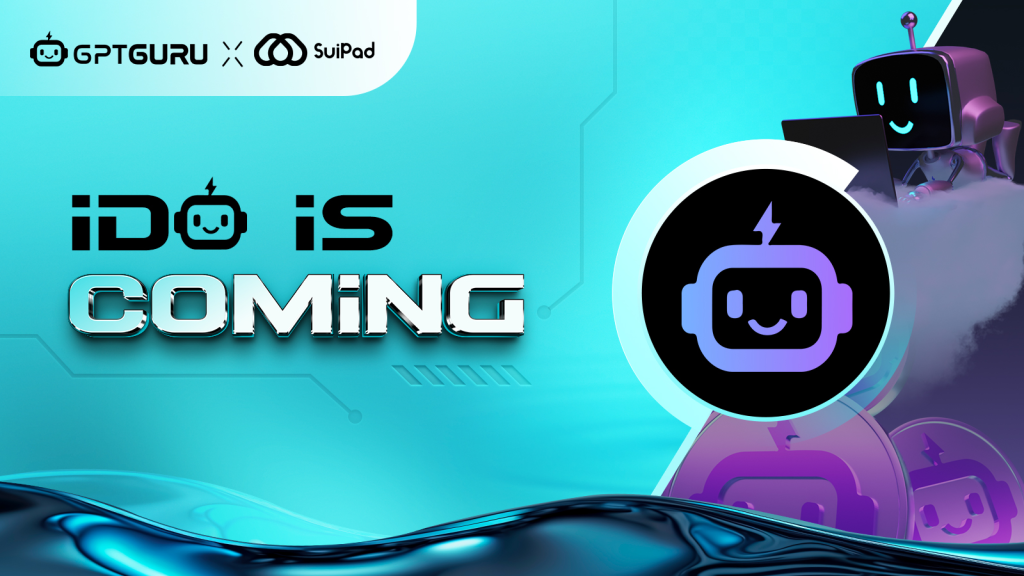 What is GPT Guru?
GPT Guru is a next-generation AI tool that acts as your ultimate partner in innovation. With a comprehensive suite of AI services, GPT Guru revolutionizes the way we interact with technology and creates exciting business opportunities in the Web 3.0 era. Powered by cutting-edge AI and machine learning algorithms, GPT Guru offers a range of unique features and products to cater to the diverse needs of its users.
What Makes GPT Guru Unique?
GPT Guru stands out from the competition by offering a range of innovative features and  products that empower its users. 
Here are some key elements that set GPT Guru apart:
 AI Trading Indicator (Beta App Live): GPT Guru provides a live beta app that offers AI-powered trading indicators, assisting users in making informed trading decisions.
 Train AI To Earn: Users can leverage GPT Guru to train artificial intelligence models and earn rewards, opening up new possibilities in AI-driven monetization.
 Create NFT Marketplace: GPT Guru allows users to easily create and manage their own NFT marketplace, tapping into the booming world of non-fungible tokens.
 Smart Contract Creator: With support for both RUST and Solidity for Solana, GPT Guru empowers users to create smart contracts seamlessly and efficiently.
Smart Contract Auditor: GPT Guru offers smart contract auditing services, including PDF support, ensuring the security and reliability of blockchain projects.
Roadmap of GPT Guru:
GPT Guru has already made significant progress in its roadmap, and exciting developments lie ahead. 
Here is a snapshot of the current roadmap progress:
Concept Feasibility
Technical Research & Analysis
Product Planning
Team Building
$GPTG Smart Contract Development
$GPTG Audit
GPT Guru is Secured by Certik
$GPTG Listing on CoinMarketCap
Legal Opinion Letter
KYC Verification Badge by CertiK
Tokenomics of GPT Guru:
Ticker: $GPTG
Blockchain: Binance Smart Chain
IDO Price: $0.0035
Seed Price: $0.0027
Private Round: $0.0030
KOL Round: $0.0032
Initial Market Cap: $127,400
Total Supply: 2,000,000,000
Introducing SuiPad:
SuiPad is the only Official Launchpad Partner of MystenLabs, aiming to become the go-to Premier Launchpad for Tier 1 projects on Sui. SuiPad is engineered from the ground up to empower Sui project owners (both Token & NFT) by offering an organised token launch experience with a tailored launch model, time and agreed upon token types. With Sui building the safest and most scalable Layer 1 blockchain for the next billion users, SuiPad will only be successful if our launchpad projects are successful.
SuiPad Shield offer an unparalleled opportunity for GPT Guru's supporters and investors. The SuiPad Shield ensures the protection of participants' principal capital, mitigating risks associated with IDOs and providing a secure investment environment. SuiPad's Staking & Tiering system also allows GPT Guru token holders to earn higher tier levels, increasing their allocation size for project IDOs and unlocking additional benefits within the SuiPad ecosystem.
Join the GPT Guru and SuiPad Community:
We invite you to join the GPT Guru and SuiPad community and become a part of the Web 3.0 revolution.
SuiPad
Website: https://suipad.xyz/
Discord: https://discord.com/invite/suipad
Twitter: https://twitter.com/SuiPadxyz
GPT Guru
Website: https://gptguru.io/
Telegram: https://t.me/GPTGuruOfficial
Twitter: https://twitter.com/GPTGuru_