Buying, selling, and trading collectible cards and sports cards becomes faster and easier thanks to the launch of the new cryptocurrency set on revolutionizing the hobby industry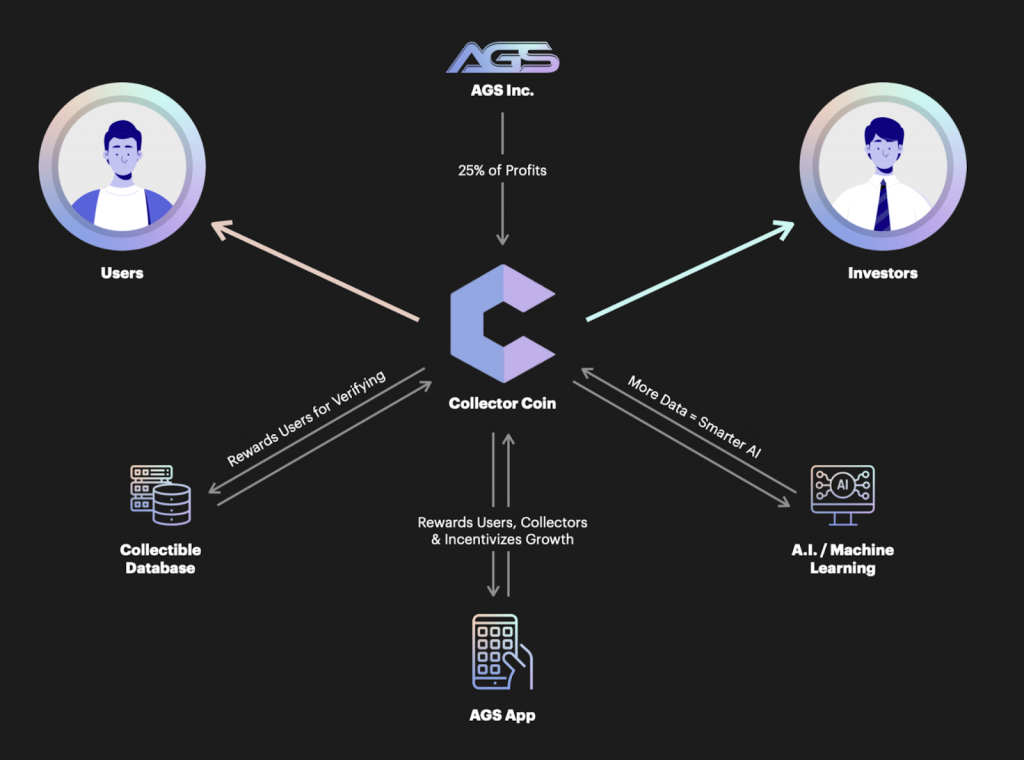 Staten Island, NY, 29 June 2021, ZEXPRWIRE, On Saturday afternoon at the Embassy Suites Hotel and Convention Center in Frisco, Texas, thousands of passionate collectible and trading card fans and aficionados converged at the renowned Collect-A-Con event for the chance to buy, sell, and trade their own card collections. 
The more than 400 dealers and vendors on-hand showcasing collectible Pokemon cards, sports cards, comics, video games, vintage toys, and more, we're also introduced to two new companies set on revolutionizing the way cards and collectibles are both obtained and valued with the launch of the Collector Coin and AGS Grading.  
The Collector Coin is a cryptocurrency that was created for collectors and is setting the standard for how collectors buy, sell and trade collectibles and cards. In the collectible market, the most important thing for collectors is proving authenticity and verifying ownership. With its launch, the Collector Coin will help scale and bring transparency to the collectibles market with the estimated size of the global collectibles market soaring at $370 billion. Built on the best blockchain technology thanks to the Binance Smart Chain, Collector Coin provides access to the largest and fastest-growing crypto ecosystem. 
Along with establishing a Pokemon database and expanding a collectible database to include sports cards, trading card games, and NFT's, Collector Coin is setting their sights on becoming a transparent representation of the whole collectibles market within the next 10 years. 
Thanks to AGS Grading, the future of re-imagining the way cards and collectibles are graded is here. 
Founded by the Wooter Holdings Corporation (the parent company of customized sportswear brand Wooter Apparel and PPE leader CovCare) and co-founded by Gary "King Pokemon" Haase and backed by investments of over $1 million, AGS Grading utilizes advanced software technology and an inexpensive approach to change the way collectors can easily grade their own cards. Compared to other grading companies like PSA, Beckett Grading, and CGC Trading Cards where cards and collectibles can be inaccurately graded by people, are very slowly processed, and expensive to grade, AGS Grading offers a faster, inexpensive, and more accurate way to grade cards and collectibles with AI technology and the opportunity to set a whole new standard for collectors. 
In the end, the company believes "to err is human" and grading cards can be executed more accurately as an exact science. The team at AGS Grading created a scanning system that can provide valuable data about the card being graded and have developed software to analyze the data from scanners that will give each card a 99.99% accurate grade. AGS Grading is also bringing collectors closer to their hobby by creating the AGS Grading mobile app that allows users to use AGS's machine learning technology to instantly add and grade any Pokemon card. For any serious Pokemon card collector, the objective is to collect every single card, in every single set. Now with the AGS Grading app, achieving that goal makes it easy to see which cards collectors are missing from each set. AGS Grading app users are also rewarded for completing sets and can compete against each other to see who can "Catch 'Em All".
With the reveal of Collector Coin and AGS Grading at Collect-A-Con's two-day event in Frisco, Texas, card collecting and valuing collectible cards provided a glimpse to how these two advanced companies are already changing the landscape in the hobby industry as one card collector soon found out by having one of his Pokemon cards graded with AGS. 
Equipped with a laser, microscope, and camera to capture the card data, the first-edition Pokemon Charizard card was instantly valued at $20,000.00 after being graded with AGS Grading. 
Media Contacts –
Name – Alex Aleksandrovski
Email –  [email protected]
Company – Collector Coin & AGS Grading 
The post Collector Coin Becomes First And Only Cryptocurrency For Card Collectors appeared first on Zex PR Wire.