If Walmart, Litecoin (LTC) and a fake news launcher created a controversy last September, the desire to integrate cryptos by this distribution giant is very real. The latest evidence is the start of the installation of a large number of Bitcoin (BTC) vending machines in Walmart stores.
200 bitcoin distributors at Walmart
Since August 2021, we know that the large US supermarket chain Walmart is looking to build its own crypto strategy , in particular through the recruitment of a Digital Currency and Cryptocurrency product manager .
#Walmart is installing #Bitcoin ATM machines. Bitcoin is everywhere. https://t.co/tk6THiGz1Z

— Dave Reiter (@TradesByDave) October 24, 2021
A new step will now be taken in this march towards the adoption of crypto-assets, since a recent article from CoinDesk reveals that Walmart is in the process of welcoming 200 Bitcoin vending machines ( ATMs ) in its retail stores, spread across all of the United States.
This pilot program , concluded with ATM distributor Coinstar , began at the beginning of October. These 200 machines will allow customers of several dozen Walmart to exchange cash (coins and notes) in US dollars for BTC .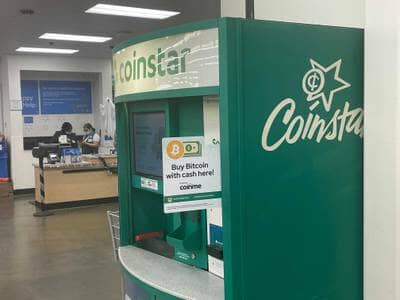 Coinstar wants to install 8,000 new Bitcoin ATMs
This first installation of machines in Walmart is part of an even larger program. Coinstar, in association with the cryptocurrency exchange platform Coinme (specializing in ATMs ), intends to install no less than 8,000 of these BTC distribution kiosks , according to Bloomberg.
"Bitcoin ATMs have been around for some time, including in many supermarkets. (…) Walmart is expanding access to Bitcoin to more and more people and giving it additional legitimacy among the latest skeptics, especially if [BTC ATMs] roll out beyond this initial pilot program "

Sam Doctor, Chief Strategy Officer at BitOoda
Big downside, however: the costs associated with the use of its automatic machines are quite exorbitant . On the one hand, because Coinstar charges a 4% fee for the Bitcoin option. On the other hand, because the coupon distributed by these machines requires to register (with KYC / identity verification) on Coinme, which also takes an additional 7% exchange fee to get the BTCs.
Even if the commissions on these machines are quite large, they have the merit of making Bitcoin very easily accessible to any of the customers of the Walmart supermarkets welcoming them. In addition to the Coinstar and Coinme program, remember that the – small but strong – Salvador is exporting its Chivo Bitcoin ATMs to the United States , to facilitate money transfers (via BTC) for its expatriate citizens.